NEW YORK- He has uncovered Nazi war criminals living anonymously in Canada. He has tracked down fugitives whom the U.S. government had searched for, unsuccessfully, for years. He has found birth parents, missing spouses, lost loves.
But Steven Rambam can't find his EZPass, and the toll plaza is fast approaching.
It's here somewhere. Somewhere in the back seat, amid the neat piles of files, maps, road atlases, computer printouts and electronic gear that turn his car into a mobile office. Rambam is driving along the New York State Thruway with one hand, fishing around the back seat with the other. Finally he comes up with the pass, pulls it from the small plastic bag he keeps it in and positions it just as he reaches the tollbooth. The gate goes up, and the Subaru Legacy with the scratch-and-dent finish shoots through.
Rambam, a Brooklyn-based private detective, is on his way to the Catskills to do some fieldwork. As the senior director of Pallorium, a 23-year-old investigative agency, he spends about 200 days a year on the road. And we're not talking about Lake Minnewaska, N.Y. In recent months he has traveled to Mongolia, South Africa, Israel, Aruba, India, Pakistan, Europe and more than a dozen states to work on cases. Rambam estimates that Pallorium currently has active cases in five countries and 15 jurisdictions, and that about 30 subcontractors are working for him at the moment.
A couple of months ago he was in Chicago, serving a subpoena to members of the rock band Kiss in conjunction with a case that has him and his EZPass on the road this day.
"This case involves international activity, finding missing people and asset location," he says, "all things I specialize in."
Rambam's also something of an Internet whiz. In addition to working as a private investigator, he runs PallTech, an online service that provides law enforcement officers, corporate security directors and other professional investigators access to more than 11 billion records contained in more than 800 investigative databases. And if his investigative and Internet enterprises aren't enough, he's also in demand as a speaker at conferences held by everyone from computer hackers to people in the insurance industry.
Spend 10 hours with Rambam, and you can ask him a lot of questions about all those things. Not that you'll get 10 hours of answers.
He's Brooklyn-born and bred, he says. He's single. He says he has the world's largest collection of ugly Hawaiian shirts. He loves to cook. He declines to say where he went to college or high school. What he did before going into the business is not important for others to know ("I had a few years experience in a similarly related profession"). He is vague about some of the details of his work, but he will say that his job is nothing like what you see on television.
"You can't just rent an office, get a leggy secretary and have someone paint your name on a pebbled glass door," he says.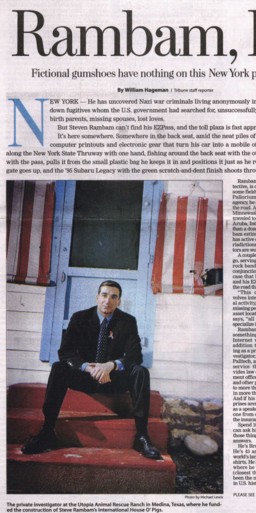 Respect and thanks
In his 20-plus years as a P.I., Rambam has earned the respect and thanks of his clients.
Rachel S. of Wilmette found out in high school that she was adopted. She searched for her birth mother without success. About 10 years ago, she met Rambam through a family member. She told him of her futile search and he said he'd see what he could do. After about six months, he found her mother.
"Steve called her and talked to her a lot and pretty much did his thing, convinced her that I wanted to meet her," she says. "He arranged it and he flew in from New York and we met at the Sheraton in Northbrook. He got a room, and he introduced me to my birth mom and then he went downstairs and let us talk. We talked for three hours.
"I think the world of Steve because he did this for me. He didn't have to do it. I actually went out to New York and that's when he gave me the information. He took me to dinner and [told me] `I found your birth mom, her name is ... This is her phone number and address and she wants to meet with you.' ... He just set up everything perfectly, from start to finish."
Rambam not only finds people, he finds information, "things that no one thought existed," says attorney Gary Kurtz.
Kurtz, of Woodland Hills, Calif., says that Rambam has helped him on perhaps 20 cases, mostly assisting victims of bank fraud, over the past 10 years.
"He has been able to bring incredible information to me," Kurtz says, declining to be more specific because of lawyer-client privilege. "His ability to use computerized databases and get leads is better than anyone I've ever known."
Sometimes, it's just old-fashioned digging that works best. Washington attorney Jim Schropp is working with Rambam to try to free Max Soffar, who is on Death Row in Texas for three 1980 murders. Rambam read about the case in the paper and approached Schropp.
"He came out of the blue as far as I'm concerned," Schropp says, "and asked if he could do anything."
Rambam, who says he is a big proponent of the death penalty, has done numerous interviews, including one with a guy Rambam and Schropp believe is the real killer, and another with Soffar's alleged accomplice, who was never arrested or charged.
"He lived in Mississippi and never had any desire to pick up the phone and talk to us," Schropp says. "Steve just went down there, got in his car and drove down, and confronted him in his workplace.
"The information [Rambam obtained] could be very key."
Thorough investigation
There is more nuts-and-bolts digging involved in the case that has Rambam on the road to the Catskills. It involves Jesse Hilsen, a federal fugitive who owes his ex-wife perhaps as much as $3 million and whom Rambam has chased around the world. "This guy was harder to find than most of the Nazi war criminals I've tracked down," Rambam says. "He's an extremely clever guy who took an enormous number of steps to conceal his activities and whereabouts."
Hilsen was a prosperous New York psychiatrist in the '70s and early '80s who later became the business manager for Kiss. He left his wife, Rita, and their three children and for years failed to pay court-ordered maintenance and child support. Following their divorce he disappeared, owing his ex-wife more than $1 million (penalties and interest have increased the maintenance and child support figure alone to almost $2 million). During divorce proceedings Hilsen filed for bankruptcy, but witnesses later testified that he was paid $700,000 over a five-year period by Kiss and that he was often in possession of large amounts of cash -- suitcases of money, according to one account -- which has not been accounted for. Getting depositions from members of the band may be one way to determine Hilsen's true financial worth.
Rita Hilsen, meanwhile, has lived in a homeless shelter for 8 1/2 years.
Rambam came to the case through a previous working relationship with Jonathan Clark Green, a Chicago attorney who specializes in international law. With some basic detective work -- a lot of it -- he traced Hilsen and his numerous aliases to the Netherlands, to Israel, and finally to South Africa, where he lives today.
Making the search tougher was the fact that Hilsen repeatedly changed identities, Rambam says.
"There's no paper trail. It's not like when you take out an Illinois driver's license and turn in your old driver's license."
Once Rambam ferreted out a South African address on Hilsen, he traveled there, did some observation, confronted him and served him with Illinois court papers (the case has been moved here because Green's U.S. office is in Chicago; that's also why he served Kiss at their show at Tweeter Center on Sept. 26).
Hilsen is now being monitored by associates of Rambam while he continues to trace the fugitive's assets. And that's what has brought him to the Catskills.
His first stop is the Sullivan County Government Center in Monticello, where he makes the rounds, schmoozing clerks and gathering information on Hilsen, his second wife (to whom Hilsen allegedly funneled some of the missing money) and her family from property records, voting records and trust records. Then it's off to nearby Swan Lake, where there's some property tied to Hilsen's second wife and her children. Interviews with a postal clerk and neighbors provide more tidbits of useful information that go into the file.
"Good stuff," he says, summing up the search. "We got a lot done."
Pursuing a cause
Not all cases take so much tedious digging; occasionally something falls into your lap. That's how Rambam started chasing war criminals.
Back in the early 1980s, he was providing security at a speech in Canada by a member of the Justice Department's Office of Special Investigations, which investigates individuals who took part in Nazi-sponsored acts of persecution and who subsequently entered the U.S. illegally.
"A little man came up to me and handed me a list of about 80 Ukrainian war criminals who were supposed to be in Canada. I get a lot of this kind of crazy stuff. `My neighbor speaks with an accent and has a German shepherd. I think it's Adolf Eichmann.' That sort of thing.
"I went back to New York, threw the list in a desk drawer and forgot about it. Ten years later, in '93, something like that, we were moving, waiting for the movers. And I came across the list.
"As a goof, I handed one sheet from the list to one guy, another sheet to another guy. And as a joke I said, Let's see who can find a war criminal before the movers come."
Rambam and his people started checking Canadian phone records.
"And we found four, five guys who were on the list. I thought, what is this? Nazis are hiding in Argentina, not in a phone number database."
They were living in the open in Canada. His next step was to go face-to-face with men. But walking up to someone and asking, `Hey, aren't you an ex-Nazi?' isn't the best icebreaker.
So Rambam set up St. Paul's University of the Americas, a fictitious bastion of higher learning located -- wink, wink -- in Belize. Armed with credentials from his "school," Rambam would approach the men on the list and tell them he was an assistant professor working on his dissertation.
He was able to win their confidence and hear the stories of more than 60 of them.
"Some of them told me horrific things," he says. "`We took the Jews to a pit. We stripped them naked. We left them one article of clothing they could use as a blindfold. We made them lie down. We'd shoot them.' "
He'd tape the conversations. Then in 1996 he went public with his findings and a list of more than 150 ex-Nazis he said were living in Canada, trying to get the government to prosecute the men. A handful were deported, but most were allowed to continue living their quiet lives in Canada. It still bothers Rambam. A lot.
`Canadians are scum'
"The Canadian (authorities) are scum. I have nothing but contempt for the guy who heads the war crimes commission in Canada," he says.
The Nazi and Hilsen cases are evidence of the strong sense of right and wrong in Rambam's world.
"Although he's wanted in every state that begins with an I, nonetheless he's a very moral person," says writer Kinky Friedman, a longtime friend, from his Texas ranch. "Unlike a great many people and bystanders in this world, he gets involved. He acts on what he believes."
Ask him if he's religious, and Rambam says he isn't sure.
"I don't know," he says. "I strongly identify as a Jew. I used to be more religious.
"I've sort of crafted a personal relationship with God. That sounds Southern Baptist-ish. I don't mean I'm trying to avoid obligations or rules. I've tweaked my observances of Judaism to what I feel is most appropriate. If Jews had Jesuits, that's what I'd be."
Of course, not all his cases involve good vs. bad, right vs. wrong.
There's Elvis.
He was asked to do some research by the makers of "Schmelvis," a 2001 Canadian documentary that examined Elvis Presley's Jewish roots. According to an e-mail from director Max Wallace, Rambam confirmed that Presley's maternal great-great grandmother, Nancy Burdine, was Jewish (according to Jewish law, Judaism is passed on through the mother's side of the family). He also tracked down Elvis' FBI file and discovered that in his communications with the government, especially with J. Edgar Hoover, he used the name Col. John Burdine, the name of his only known Jewish ancestor.
Fictional alter ego
Rambam's other foray into popular culture involves playing a role in Friedman's mystery novels. He serves as something of a technical adviser on the finer points of sleuthing, and most of Friedman's books include a New York-based private investigator named, not so mysteriously, Rambam.
"A lot of fiction often blurs with non-fiction," Friedman explains. "So a lot of the real stuff Steve does may seep into his mind ... and he's got a very inventive mind. If there's ever any issue of how something is done, he can cover for the Kinkster."
Their partnership -- neither recalls when they first met, though Rambam says it was at least 25 years ago -- extends to the Utopia Animal Rescue Ranch in Medina, Texas, which Friedman co-founded. It's home to more than 50 unwanted dogs and a variety of other creatures, including a half-dozen pigs who can thank Rambam for the building they live in. He paid to have Steve Rambam's International House O' Pigs -- that's what the sign out front says -- constructed.
"I'm a big pig man," he says. "I go and visit with the pigs when I'm in Texas. I get a big cup of coffee and a six-pack of doughnuts and we eat breakfast together. I take a bite out of a doughnut, then give a pig the rest."
Rambam spends a lot of time in Texas, as much as he spends in New York, he says, and calls it his second home.
"It's a no-nonsense place. New York is the land of creative [bull] and political correctness."
He also has several cases working in Texas, such as the Max Soffar case. But now, after a productive day on the road, his thoughts are on getting back to New York and dinner.
That's not to say he's done for the day, as he makes phone calls to lawyers working on various cases, checks his messages, gets calls from clients, and even has time to contact an auto salesman about a new car he's interested in ("Talk about a criminal class of characters," he says. "Car dealers.").
Traffic heading back into the city gets heavier. Construction makes it worse. A dump truck cuts in front of Rambam. He is not amused.
A few minutes later, he's able to maneuver around the slow-moving truck. As he does, he opens the moon roof and, uh, acknowledges the truck driver.
"That's what moon roofs are for. It really is," he says. "Look, I'm an educated person. I graduated with a 4.0 from college. But every once in while Brooklyn takes over."
- - -
Peeking into a private investigator's files
A quick look at some of private investigator Steve Rambam's recent greatest hits:
- When Benjamin Netanyahu was first running for prime minister of Israel, his opponents charged that he had been a CIA agent, citing a credit report for one John J. Sullivan, Netanyahu's supposed cover name. "Of course it was monkey business with his credit report," Rambam says. "I tracked down Sullivan [in the United States] and he agreed to pose for a photo and photocopy his Social Security card. He's a pretty large Irish guy. Extremely not Jewish. He said he had some Jewish relatives through marriage who were just ecstatic that this Christian interloper in the family was now tied to Israel."
- Rambam traveled to Mongolia on an insurance case in which a woman supposedly drowned in a river. "We did such an aggressive investigation in Mongolia that we created a problem for her. We kept poking around and asking questions and the Mongolian cops started asking questions, and finally the dead woman actually called up the insurance company and said, `Why are you bothering my family?'. "
- Working for the producers of "Schmelvis," a documentary about The King, Rambam proved that Elvis Presley was of Jewish descent.
- The case nearest to his heart right now is that of Max Soffar, who sits on Death Row in Texas, railroaded by police and the courts, according to Rambam (who, incidentally, is a big supporter of the death penalty). Rambam thinks there's now enough evidence to get Soffar a new trial, and he's headed to Texas this week for more interviews that he deems crucial to saving Soffar.
- Rambam was in Chicago last fall working a case that involved the rock group Kiss. Jesse Hilsen, the band's former business manager, is a federal fugitive -- he owes his ex-wife nearly $2 million -- whom Rambam has chased around the world. He finally found him living in South Africa, where he's now being watched by Rambam's people.
- When he's not out solving cases, Rambam serves as the technical adviser to mystery writer Kinky Friedman. Friedman has reciprocated by having an investigator -- named Rambam -- as a recurring character in his novels. "He's got a very inventive mind," Friedman says. "A criminal mind. It's a good thing he's on the good side of the law. If he ever decided to go bad, we'd be in trouble."
- - -
PHOTO (color): The private investigator at the Utopia Animal Rescue Ranch in Medina, Texas, where he funded the construction of Steve Rambam's International House O' Pigs. Photo by Michael Lewis.
PHOTO: Private investigator Steven Rambam (right) talks to Rich Baylie, executive director of Tweeter Center, as the detective tries to serve subpoenas to members of the band Kiss at the Tweeter Center in September. Tribune photo by Abel Uribe.
- - - - - - - - - - - - - - - - - -
(Article edited by the provider. Some client names redacted. Copyright held by the publisher.)